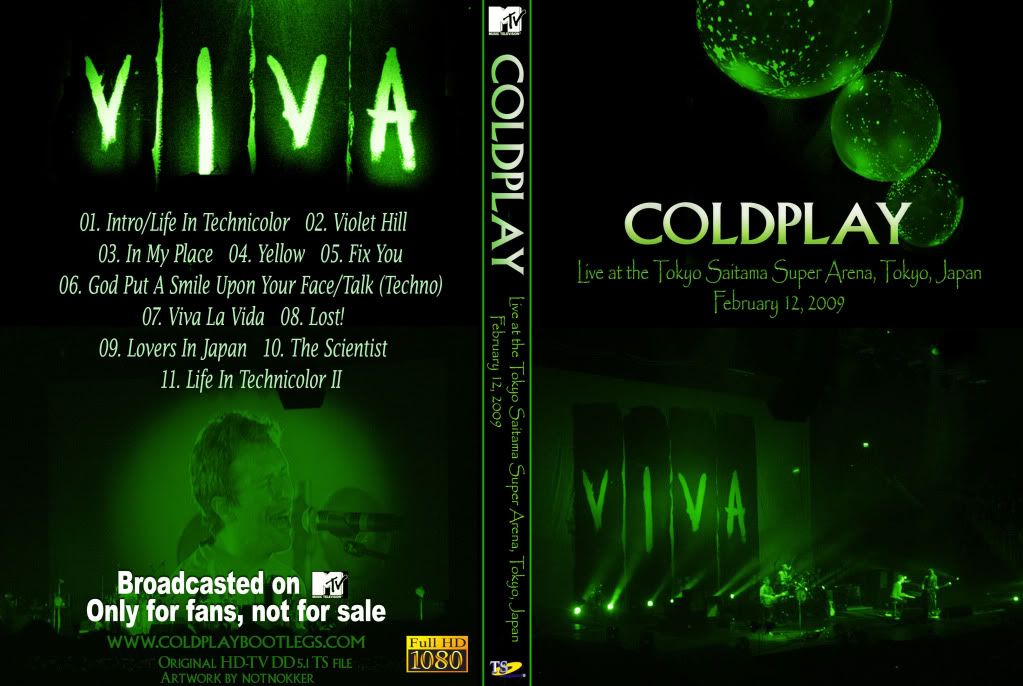 Coldplay MTV World Stage - 1080i HDTV DD5.1 MPEG2-CtrlHD
Length: 44m:15s
Technical Specs
Video Codec.......: MPEG-2
Video Bitrate.....: 18.10 Mbps (16.97 Mbps Average)
Video Aspect Ratio: 16:9
Audio Codec.......: AC3
Audio BitRate.....: 384 kbps
Audio Channels....: 5.1
Ripped by.........: Grover
Source............: Palladia HD via FiOS TV
Astonishing, amazing, incredible, choose the adjective you want to describe or qualify this video, in my opinion much better than official DVDs. And the concert captures the band in a great atmosphere.
Tracklist
:
1. Violet Hill
2. In My Place
3. Yellow
4. Fix You
5. God Put a Smile Upon Your Face/Talk
6. Viva La Vida
7. Lost!
8. Lovers In Japan
9. The Scientist
10. Life in Technicolor
ARTWORK AND DOWNLOAD LINKS (INSIDE THE TXT FILE) IN A RAR*
Password: bootslive.blogspot.com
PS: YOU ARE ABOUT TO DOWNLOAD A RAR FILE (USE WINRAR OR 7Z TO UNPACK). INSIDE THE RAR YOU'LL FIND THE ARTWORK AND A TXT FILE WITH THE CONCERT INFO AND THE LINKS TO DOWNLOAD.
ONLY FOR SHARE, NOT FOR SALE!